360° impact sound analysis of ball mills
Do you already have enough in­for­ma­tion on your grind­ing pro­cess? Simply put, SMARTFILL pro­vides you with in­for­ma­tion, the key to suc­cess.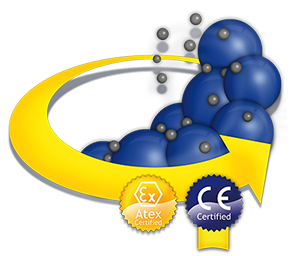 metric tons of C02 saved per year / SMARTFILL and MILLMASTER Package
satisfied users and counting – worldwide!
Any questions? Just give us a call
+49 2463 9967 0
In order to op­ti­mise grind­ing pro­cess­es, it is nec­es­sary to mea­sure the most im­por­tant pa­ram­e­ter—the fill level—as pre­cise­ly as pos­si­ble. This key pa­ram­e­ter can­not be mea­sured di­rect­ly, it needs to be de­ter­mined by acous­tic or vi­bra­tion mea­sure­ment. Be­cause of the ob­vi­ous dis­ad­van­tages pre­vi­ous mea­sur­ing meth­ods (like mi­cro­phones) are quite use­less for now­a­days needs. Due to mea­sur­ing the sound di­rect­ly where it oc­curs (on the mill shell), all these dis­ad­van­tages can be avoid­ed. The so­lu­tion is SMARTFILL™—a fail-safe, high-pre­ci­sion fill lev­el and tem­per­a­ture mea­sure­ment sys­tem for ball mills.
High-precision measurement of fill levels
easy installation
zero crosstalk
free frequency band
almost no maintenance
process interface (4—20 mA)
up to 3 sensors of free choice
up to 16 product types
industrial proved: IP65 / Atex
mill mounted (self-powered)
How SMARTFILL improves your production process
In­cor­po­rat­ing the pre­cise re­sults in­to your grind­ing pro­cess is di­rect­ly im­prov­ing your pro­duc­tion pro­cess. In or­der to achieve this im­prove­ment you per­ma­nent­ly need to ad­just the mill's feed. While keep­ing the fill lev­el at the op­ti­mum, the grind­ing pro­cess be­comes sta­ble.
A good op­er­a­tor, for ex­am­ple, takes care of the fill lev­el and man­u­al­ly changes the fresh feed.
SMARTFILL's range of application:
All kinds of industrial ball mills or grinding of
cement
limestone
coal
gold ore
iron ore
aluminium oxyde
Using an au­to­mat­ic con­trol­ler pro­vides you with even more ad­van­tages and con­ve­nience. Au­to­mat­ic con­trol re­li­ably com­pen­sat­es dis­tur­bances like strong dif­fer­ences in raw ma­te­ri­al qual­i­ty and pre­vents over­fill­ing. These ad­van­tages are based on a fact. The au­to­mat­ic con­trol­ler is re­act­ing fast and pre­cise on con­cur­rent events, tak­ing the cor­rect de­ci­sion at any time.
In addition you achieve a high product homogeneity, ensuring an increased product quality.
Mi­cro­phones are a thing of the past. The guid­ing tech­nol­o­gy of to­day is called SMARTFILLTM. The mar­ket lead­ers have de­cid­ed al­ready.